Thank you for choosing a Bumper to Bumper Certified Service Center! Click on the link below for the current rebate.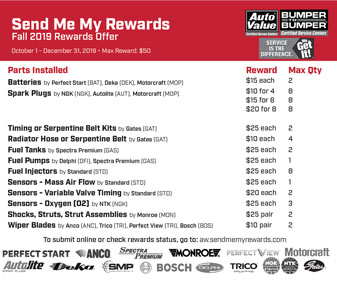 Click here for details
What our clients say about us?
Reviews and comments from our satisfied customers
Fast and dependable.

I have had my Jeep worked on here several times and have been very happy with the service. He has also been very trustworthy when giving me accounts of what needs done. I highly recommend.

Does good work, cheaper than most dealerships.

I want to publicly thank Paul Yoder for always being a top notch mechanic. It is very hard to find someone so dependable and trustworthy especially when it comes to vehicle maintenance. Paul, thank you for putting my worries to rest and being the one mechanic that provides excellent service to my daughters and my vehicles. I learned years ago the hard way not to trust many "mechanics", but you sir are spot on with your knowledge and expertise.

Yoder's has done great things for my "collectible" car. Hope he can fix it again soon for me. Highly recommended.

I made my first visit to Yoder's in 2002, when I had him work on my pickup. Since then I have returned to Yoder's for many repairs. I've never had to take a vehicle back for the same problem; when Paul Yoder, the owner, says it's fixed, it is fixed. Now, I take all of our family vehicles to Yoder's for all maintenance: routine work like oil changes and more complex, serious repairs like troubleshooting electrical problems and replacing transmissions. Paul Yoder is a fantastic mechanic, and a man I have come to trust completely.